Introduction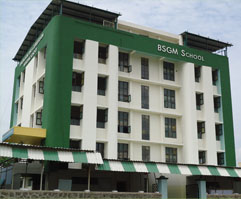 Bhagyalakshmi Sarla Gurusahani Memorial (BSGM) School started under the aegis of Dr. Gurusahani Foundation Trust in the year 2001 with a primary objective of providing quality holistic education to the intermediate block of society within an affordable cost and to prepare children for life. The school started in the year 2003 and since then the school has been providing meaningful education, to a large number of children, desirous of growing into educated & liberated human beings.
Within a caring and a healthy atmosphere, the school fosters confidence, discipline, clarity in thought, and decision-making ability, to set and achieve goals, and above all social responsibility, as a life-long process. The school is managed by the distinguished Trustees of Gurusahani Foundation with adequate resources in terms of qualified and dedicated staff, well equipped laboratories, rich library with constantly enriching additions, modern education technology, vast play grounds covering an area of over 2 acres, almost all games & sports facilities and modern computer lab with audio visual learning facilities. Besides academic excellence, the school is committed, to inculcate in all its students, strong ethical values of integrity, politeness, kindness and respect for the elders. It is permanently non-Granted English Medium, Co-Ed school and is affiliated to Maharashtra State Board of Secondary and higher Secondary Education. The School is committed to enhance the intellectual growth of the students, therefore besides the given syllabus a lot more which has been approved, will be taught to the students for all-round development of the students.
A passion for quality and the spirit of excellence are the values which have brought the school to eminence. It is the only ISO 9001:2015 accredited School of the region.